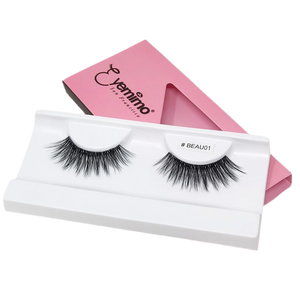 #BEAU01 - EYEMIMO False Eyelashes "The Classic"
BUY 6+ SAVE 25%. ENTER CODE: SAVE25
Usage: Reusable
Item#: BEAU01
Style: Natural
Material: Synthetic Hair
Color: Black
Case Dimension: 4.25W x 2L x 0.5D"
We Offer DUO Brand Adhesive (latex-free).
Follow the instruction below on How to Remove Lashes as printed on the back of the lash package
To Remove Lashes: Place warm towel on closed eyes to loosen the adhesive bonding, then gently pull it.